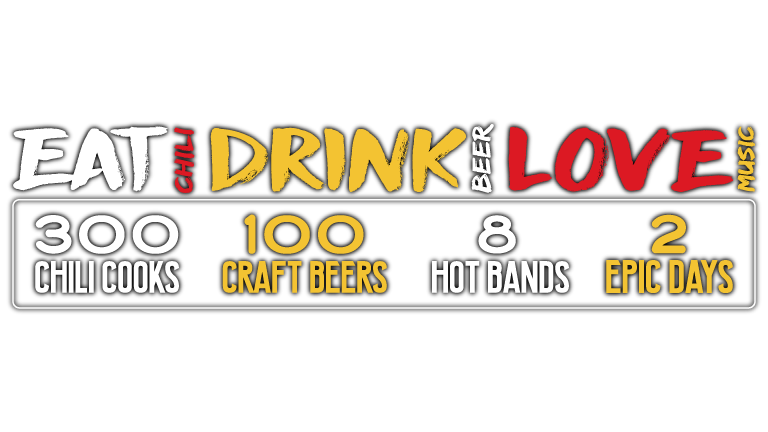 Do you eat chili, drink beer and love music? Then we're ready to meet you in St. Louis!

2018 marks the 52nd Annual World Championship Chili Cook-off (WCCC). Every year, thousands of chili cooks compete at local cook-offs across America to qualify for the WCCC where these local champions will compete for $100,000 and 5 different World Champion titles! Your favorite local restaurant chefs will also compete for the Best in the Midwest title.




We're excited to be in St. Louis for the first time - where people definitely know great food, great beer and great music. This 2-day festival is September 29th and 30th, from noon to 6pm both days, at Gateway Motorsports Park.

SCHEDULE
NOON TO 6PM BOTH DAYS
| | |
| --- | --- |
| Chili Tasting: | Noon - 5pm |
| Beer Tasting: | Noon - 6pm |
| Concessions: | Noon - 6pm |
| Live Music: | Noon - 6pm |
| Cornhole: | TBD |
Band Lineup - Saturday, Sept 29
12:00pm - 12:10pm

National Anthem
Special Guest Katie Ray
12:10pm - 1:30pm

Common Jones
Road to Pointfest Winner
1:40pm - 3:00pm

My Posse in Effect
Beastie Boys Cover
3:10pm - 4:30pm

Red Not Chili Peppers
Red Hot Chili Peppers Tribute
4:40pm - 6:00pm

40 Oz. To Freedom
Sublime Tribute Band
Band Lineup - Sunday, Sept 30
12:00pm - 12:10pm

National Anthem
Special Guest Katie Ray
12:10pm - 1:30pm

The Fighting Side
Outlaw Country
1:40pm - 3:00pm

The Burney Sisters
LouFest Artist
3:10pm - 4:30pm
Travis Denning
Rolling Stone "Need to know Country Artist"
4:40pm - 6:00pm

Clare Dunn
Universal Music Artist


TICKETS
Enjoy chili tastings from the best of the best as you watch the cooks compete for the World Championship title. There will also be 100 craft beers to drink, 8 hot bands to love, more great food to enjoy and retail booths to shop.

SPONSORS
From the bottom of our chili-loving hearts, we thank our sponsors for their contributions during our annual World Championship and throughout our chili season. We encourage you to support these community-minded organizations.
RESTAURANT COMPETITION
Come vote for your favorite restaurant chili in our Best in the Midwest competition. What's the secret to making a great chili? Just ask any chef and they will tell you... mix the spices so it's not too hot, but not too mild. Chop the ingredients so it's not too chunky, but not too minced. Stir the sauce so it's not too thick, but not too thin. And most important, make enough for everyone!
CHILI FOR GOOD
Thousands of chiliheads raise money for hundreds of charities at ICS cook-offs every weekend throughout the year. Close to $100 MILLION has been raised and donated to date.